Click to download PDF January-March 2017 Prayer Letter
MISSIONARIES TO THE PHILIPPINES
COLLINGWOOD PRAYER LETTER                                                                                          January-March 2017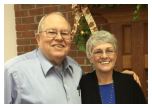 Church Planting  **  Bible College  **  Christian School  **  Discipleship
Dear Pastors and Praying Friends,
Greetings in the wonderful name of our Lord Jesus Christ whom we love and serve. The first few months of the new year bring preparation and planning for the end of the Christian School year which began in June of 2016 and will end in March 2017.
The first event in a count down to the graduations and special recognition of achievers, etc. is our Annual Field Trip. It was a cloudy and gloomy looking day in January on the scheduled day of the trip. A low pressure area was centered in the Visayan Islands area bringing much of the weather and not the usual hot weather experienced at this time of the year. The venue was Mt. Samat in Bataan and Ocean Adventure, Subic in Zambales. The travel and visits to these places is basically an all day adventure. Some of the parents come with us to be with their children and are surely welcome with a rather large attendance which we divide into groups for the venues and site seeing.
Later in the month of January, our principal, Bernie Hernandez directed some of our students to the School of Tomorrow Headquarters in Bicutan for the competition in the Junior Student Convention. The travel will take them through Bulacan and Manila to reach this event. Early departure and some 11 hours of travel through unbelievable traffic is necessary to attend this annual event. Our students scored well in the competition and brought home their trophies and a sense of accomplishment.
On March 18th in the morning, our Preschool children held their graduation into the elementary ranks. 15 of these young ones moved forward as proud parents watched them also recite long passages of scripture.
On March 18th in the afternoon, 21 6th graders moved up into the junior high school curriculum.
On March 22nd in the morning 7 Junior High School students graduated into high school.
On March 24th Grace Christian Academy celebrated our Annual Awards Banquet at Casa Buena de Pulilan, Bulacan. Our banquet speaker this year was Rev. Erich Bernard Santos, Interim Director of School of Tomorrow Philippines. Our brother is also an associate Pastor of Jesus Flock Gateway Church in Quezon City, Metro Manila. We were blessed with his message as our great God attended his word with power and conviction. This event culminates the events for school year 2016/2017.
Now summer preparations are underway for cleanup, painting and maintenance for the coming school year which will commence in June 2017.
A much needed prayer request is for RECOGNITION STATUS for our high school from the Philippine Department of Education. The secular education people do not really understand the School of Tomorrow program no matter how many times they observe the students taking responsibility for their learning through working their PACES and then grading them at the scoring table. But God can move upon them to grant to us this status and put back into our program classes through grade 11 and 12 and graduate our own. They now have to enroll in a Recognized school for these last 2 grades. Many of you know the battle of Christian education vs. secular education.
ADDITIONAL PRAYER REQUESTS FOR UPCOMING EVENTS
April 23, God's Grace Baptist Church, Pandi, Bulacan Missions Conference. They have 2 missionary candidates for support coming to the meeting.
May 8, Grace Baptist Church, Baliwag Bulacan Pastors/Workers Conference.
May 21, GBC, Baliwag 32nd Anniversary followed by a week of Bible Conference.
Special needs for the family of Rebecca dela Cruz, wife of Pastor Edgar. Her family's crops and houses were totally destroyed in Quezon Province by a strong typhoon and it may take 5 years for that area to recover from this devastating storm.
Brethren, thank you for your prayers and financial support for this ministry.
                                                                                                                                                     By His Grace and for His Glory,
                                                                                                                                                           Brad and Bonni Collingwood
"Being justified freely by his grace through the redemption that is in Christ Jesus." Romans 3:24

FIELD ADDRESS
Rev. Brad Collingwood
702 Dr. Gonzales Street
Sabang, Baliuag 3006
Bulacan, Philippines
FURLOUGH ADDRESS
P.O. Box 892
Ringgold, GA 30736
e-mail: sbc1812@catt.com (Brad)    bonitamae@catt.com (Bonni)

P.O. DRAWER 550
THORSBY, AL 35171
205-646-0808