By supporting Kinsey Drive Baptist Church, you help support these amazing missionaries that are taking the truth of the Gospel to the world.
Missionaries Brad and Bonni Collingwood

Brad and Bonni Collingwood serve as missionaries to Bulacan, Philippines, where they are involved in church planting, discipleship, preaching, and teaching. Their ministry also includes Sovereign Grace Baptist Church, a Christian school for children, and a Bible institute for pastors.
Click here for the latest Prayer Letter
Missionary Hubert Hall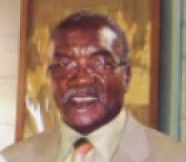 Hubert Hall is pastor at Clarksonville Baptist Church in Clarksonville, Jamaica W I. Our dear friend, Hubert Hall,  also serves three other churches: Mt. Moriah, Tweedside, and Anderson Town.
Missionary Barbara Keathley

Barbara Keathley is with the Gospel Light Foundation for the Blind. The Gospel Light Foundation for the Blind seeks to be an extension of the local church by providing the materials to the blind that most local churches are unable to provide themselves. The GLFB ministry is dedicated to proclaiming the historic doctrines of the Christian faith. More than 3,000 recorded messages and books of grace preachers and Bible teachers are sent to the blind absolutely free on a read-and-return basis. Gospel Light offers to the blind anywhere in the world free Bible correspondence courses in Braille, large print, or by email.
Missionary David Sitton 
Pioneer church planting has been the focus and passion of David Sitton ever since his first adventure in Papua New Guinea (PNG) in 1977. David married Tommi in 1980 and, over the course of four decades, they helped plant more than 30 churches in the remote, and oftentimes hostile, highland and coastal regions of PNG.
David currently serves as To Every Tribe's Director of Strategic Vision, teaches in the CPCP, assists with church planting activities, conducts leadership training in PNG, and is a frequent speaker at many churches and conferences around the world.